Visit Jesuit ruins of Misiones, Argentina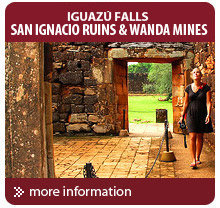 Testimony to the ancient cultural life of the region, the Jesuit Ruins circuit inserted in the province of Misiones, will allow you to learn step by step the history of colonization and evangelization of natives at the time of the European conquest of American territory.
The tour calls at more than one site where ruins still dominate the landscape. A hierarchy possessing less than others, but all deserve to be known, various reductions (indigenous peoples gathered composed to be catechized) invite to travel back in time to live those events firsthand.
Access to the ruins of San Ignacio Mini, the most prominent and recognized Missions, the Recreation Centre and Jesuit-Guaraní has nine rooms as a historical narrative reconstruct the past, since the arrival of the first Spanish, including a model of what were the reductions, and culminating in an exciting and educational show that, with lights and sounds, reliving what happened between the seventeenth and eighteenth centuries.
Tours to the Jesuit Missions of Iguazu Falls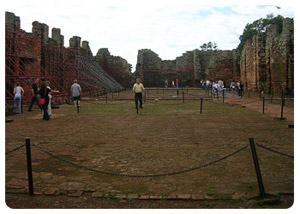 In a more natural state and camouflaged with jungle that surrounds them, other smaller ruins exhibit their view of the facts. The Ruins of Our Lady of Candelaria, located at 19km. Posadas, the Ruins of Santa Ana, located just 40. of the provincial capital, the ruins of the Mission of Our Lady of Loreto, Located about 10 km. beyond, and the Ruins of St. Mary Major, which are going Itacaruaré; subsequent breaks are on this journey of great cultural and religious significance. An interesting architecture, ornamented with figures you can see the clear imprint Guarani, is the main part of this magnificent cultural tourist attraction for discovering the mode of organization of the city in the days when the square and the church functioned as structural axes.