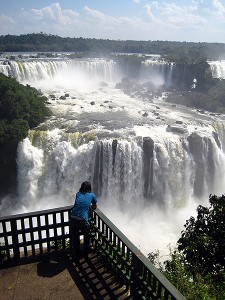 When you visit the iguazu falls you should have in mind that the Brazilian side of the Iguazu falls is one of the best tour to add in your vacation package.The visit to Iguazu Falls in the Brazilian side allows you to have a panoramic view of all the falls, as if you were in the middle of an amphitheater. The Brazilian side of the falls runs a single path that allows you to have a panoramic view of the falls and reach the Visitors Center where there is a statue of Santos Dumont, the "Father of Brazilian Aviation"
The access trail to the falls begins at a lookout, situated opposite to the Hotel Das Cataratas and it has an area of 1200m. on the right bank of River Iguazu.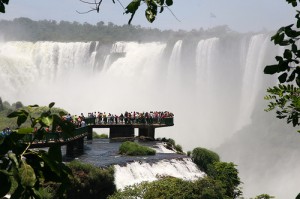 Along the catwalks of the National Park you can see the Argentine and Brazilian falls from different angles, up to the walkway that allow you to see the the Garganta del Diablo (Devil's throat)
Throughout the catwalk the visitors are accompanied by colorful butterflies, cute coatis and other small animals of the National Park.
The duration is two hours, it has no difficulty and no stairs.

Itaipu Hydroelectric Dam
Itaipu Hydroelectric Dam is another nice tour to be add in your Vacation package in the Iguazu Falls. The Itaipu complex is located on the border between Brazil and Paraguay. It is one of the greatest works of its kind in the world.
There is a visitor center where an audio-visual displays on the construction of the dam. Then the visitors can visit the authorized point of the complex traveling on a bus company. There is a nice view of the Lake Itaipu.
You can visit every day the Itaipu Hydroelectric Dam except Sundays and holidays.
Tags: Iguazu Falls Vacation Package.