Iguazu falls news: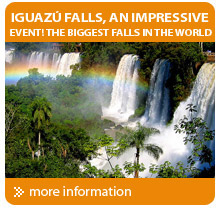 On 11 November 2011 the voting ended and the Iguazu Falls were chosen as one of the 7 Wonders of the World thanks to the vote of millions of participants. Now it's time to enjoy them.
In South America there is a natural site that really does not go unnoticed by the tourists who come in search of great adventures. All the tourists who arrive in Iguazu are immediately wonder for this place that mark a before and after in their lives. Along the winding walkways we can mention that the Garganta del Diablo is the best one because it almost touch the water.
Of shared sovereignty between Argentina and Brazil, Iguazu Falls have been overall winners of this contest that has chosen as one of the 7 Wonders of the World. Data realize that more than 4,000 people from all over the world walk every day of the year, and the figure is over 10,000 when the weekends are long or timing mark any patriotic holiday.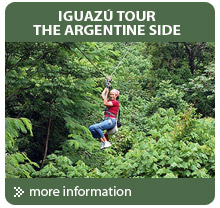 Thanks to Contest The New Seven Wonders of Nature, the world began to talk about them. 01Argentina Travel Agency is honored to have joined our extended online presence to help spread this particular contest whose prize was nothing more or less, to get one of the most beautiful places to have our planet and our Argentina becomes more widely recognized and promoted worldwide.
Vote for Iguazu Falls was so much more than a slogan. It was a way to tell the world that one of the natural wonders found in our territory, and that is Argentina, and has all the qualities to keep the trophy forever.
Can the other wonders nominees be enjoyed both day and night? Because the Iguazu Falls can be visited also with the moon light. Can the other wonders, cause fear, fascination, adrenaline, majesty and vulnerability just with a sight of them? Can anyone, after having known the Iguazu Falls, said that there is a place in the world like this? Iguazu Falls and were wonderful for those who were lucky enough to know them. Now the world can know the cause. Thanks for helping to give them the place they deserve in the world.