In the Litoral of Argentina, the landscape is determined by the water. By the rivers Parana and Uruguay, and also by the heavy rains, essential to sustain dense forests in the province of Misiones, marshes and lagoons in Corrientes and Entre Rios in green fields. Here, the sun looks radiant as each new day begins. The bounty of nature can be seen in every corner, in every destination. The red soil contrasts with the intense green vegetation. The birds give the touch of color with its plumage and its song is the story of the jungle alive.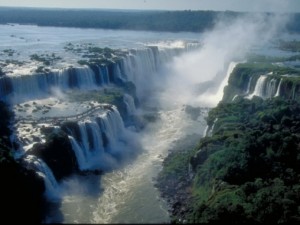 In Misiones, Iguazu National Park, one of the most emblematic of the country, home to native flora and fauna. And blanket the immensity of the wonderful Iguazu Falls, stunning waterfalls painting of a white haze and refreshing atmosphere. Among the rivers no place for adventure and adrenaline. And more than 450 species of birds attract lovers of bird watching. On full moon nights, the park is decked for visitors to appreciate the beauty of the highly endangered in the silvery light of the satellite that shines over the rivers and falling waters. The nearest town is Puerto Iguazu Park, located 18 miles away, offers varied accommodation and tourist services.
About 240 miles are the Jesuit Guaraní Missions of San Ignacio Mini, declared Cultural Patrimony of Humanity by UNESCO, Our Lady of Loreto, Santa Ana and Santa Maria Maggiore. Here, culture and jungle come together in the story of the history of the Jesuit who settled in the region. From Posadas, capital of Misiones, the paths to the province of Corrientes open.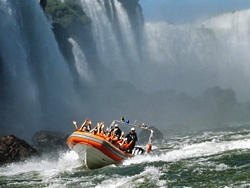 Current offers a large nature of estuaries and lagoons. The Ibera Wetlands are one of the most emerging tourist destinations in the region and there is possible to appreciate an exotic and pristine environment, characterized by a large variety of flora, fauna, especially birds. It is a favorite for birdwatchers sites, to tour base is made in the small town of Colonia Carlos Pellegrini, which is accessed from the missionary city of Posadas, located 210 kilometers.
For nature lovers, the Coast invites way to go due south to the province of Entre Ríos, where the El Palmar National Park, near the cities of Buenos Aires, Rosario and Parana preserves Yatay lots of palm trees. Here sunset is a registered trademark. The treetops are obscured by the effects of the sun, giving unique postcards.