More tourists are taken vacation packages to the Iguazu Falls since this destination was named as one of the Seven Natural Wonders.
The choice of the Iguazu Falls as one of the Seven Natural Wonders of the World led to a shocking fact: in July grew 25% the number of visitors in the main attraction of Misiones Province in relation to last year.



The data were provided by the Minister of Tourism of Misiones, Horacio Blodek, who said that in the first 21 days of the month, entered the National Park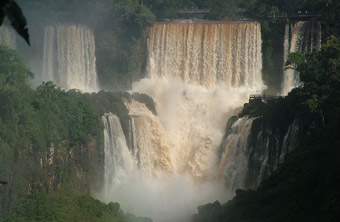 Iguazú 108,332 people, while the same period in 2011 were 87,076 registered revenues. The Iguazu Falls were chosen as one of the new Seven Wonders of Nature on 11 November last year, and the effects begin to be felt in the tourist destination, as elsewhere in the world who also received the distinction of the foundation New Seven Wonders, which organized the contest in which more than one billion people around the world. Blodek anticipated that July 2012 will mark a historical record of visits to the Iguazu Falls and said the spillover effect will be felt throughout the province. The official explained that 85,455 of the 108,332 people who came to Iguazu Falls so far in July, domestic tourists accounted for, "which is a clear measure of success of the promotion campaigns carried out in the provinces," said Blodek.