Best circuits inside the Iguazu Falls National Park
The Iguazu Falls National Park preserves the lush subtropical vegetation around the falls. 2000 plant species: giant trees, ferns, orchids, lianas and 400 of birds, parrots, hummingbirds, toucans. Jaguar, tapir, capybara, cat ounce, anteater and puma. The Iguazu falls National Park has an area of over 67,620 hectares.
The park has two walkways circuits, the lower and upper. The lower circuit is the most direct to appreciate and be in touch with the Iguazu falls from below. The upper circuit is where you get the most spectacular views.
To get to the Garganta del Diablo take a narrow gauge train and ecological open cars that transport through the jungle to the access gateways.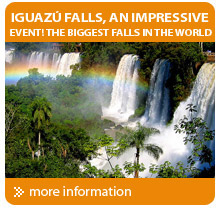 A visit to the Iguazu Falls with full moon in the "Devil's Throat" is a must and a great opportunity to live in the darkness of the night and the sound of birds, the impressive spectacle of the waterfall moonlit.
It is also possible to cross by boat to San Martin Island and enjoy an unforgettable sailing experience in zodiac, with a view "from the inside" of the Iguazu waterfalls.
A few meters from the Interpretation Center for adventure tourism lovers, Macuco missed the 3 km long.
The day after visiting the falls on the Brazilian side, from its catwalks and using a lift to the upper floor, there is an excellent view of the falls on the Argentine side and the impressive Garganta del Diablo.
Iguazu Falls vacation packages
Landmark of the Three Frontiers: tripartite point located in the town of Puerto Iguazu, where you can see the junction of Argentina, Brazil and Paraguay. Meeting of the Parana and Iguazu.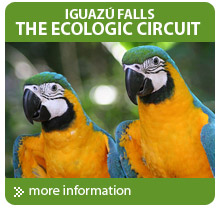 Itaipu hydroelectric dam: on the Parana River in Brazil.
Wanda: small town that integrates the tour because of its deposits of gemstones. Extracted geodes, rock crystal, amethyst, agate, jasper, topaz and citrine crystals. You can also visit the Salto Tupi-Cua.
Don't forget contact with us for any quotation if you are interested in an Iguazu Falls vacation packages. Our Team would be answering you with the best prices and tips.