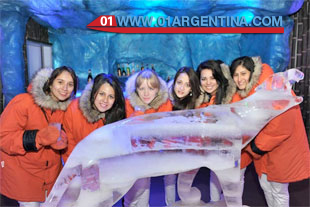 IceBar Iguazú is a unique ice bar in the world for its unimaginable Location: Misiones jungle, a wild link between high temperatures and lush vegetation outside in freezing weather inside the ice bar.
Everything inside is made of ice icebar, bar walls, furniture, and mobile sculptures representing the fauna of the region.
Sculptors from all over the country leave their stamp on the various ice sculptures which complete the incredible scenery.
The ice bar reception the visitors should be covered with warm clothes which is provided free by the same bar. At first people enter an environment of 20 degrees and then move to another 5 degrees and begin the acclimatization process. Finally you enter the ice bar where the average temperature is 10 degrees below zero.
The ice bar stay is 30 minutes with free drinks.
After the visit to the Ice Bar is exited through the halls of acclimatization to come to room temperature in a bar by jungle where you can continue to share a good time with friends or family.
1st place on Trip Advisor in the category of nightlife and entertainment in Puerto Iguazu.
Location
The bar is located on Route 12 km 5 in the town of Puerto Iguazu, Province Misiones. The Route 12 is a necessary step because it is the one that connects the city of Puerto Iguazu Falls and International airport.
Rates
General Admission $ 200.-
Residents Argentinos $ 120.-
Children $ 60.-
Residents Iguazu $ 60.-
Schedules
SUNDAY TO THURSDAY
14:00 pm. to 24:00 pm.
FRIDAY, SATURDAY AND HOLIDAYS
14:00 pm. to 24:00 pm.
parking