Optional tours in Iguazu Falls: When you visit Iguazu falls you can these tour optinal activities to your vacation package in the Iguazu Falls:
The great adventure boat trip: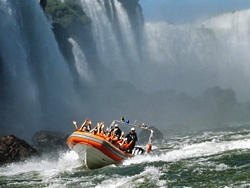 The Great Adventure is the ultimate boat trip in the area of the Iguazu falls. Impossible to miss the "Baptism of the Iguazu Falls Falls".
The tour starts at the Port which is located in front of San Martin Island. Thence in a semi-rigid inflatable boat you will be able to approach to the Argentine falls, to the Canyon of the Garganta del Diablo (Devil's throat) and the Brazilian falls where you will do the "Baptism in the mists."
Then you will sail 8 km. downstream to the lower Iguazu River, passing through the rapids. Upon arrival in Puerto Macuco you will descended and you will continue by a walk through jungle trails until you meet the ATVs that will take you back along the path Yaracatiá.
The total length of the Great Adventure is about 1 hour, with some difficulty, as there are stairs. This excursion is not available for the faint hearted or for pregnant women.

Iguazu Forest tour:
Another optional tour to be added in your Vacation Package in the Iguazu falls is undoubtedly "the tour Iguazú Forest".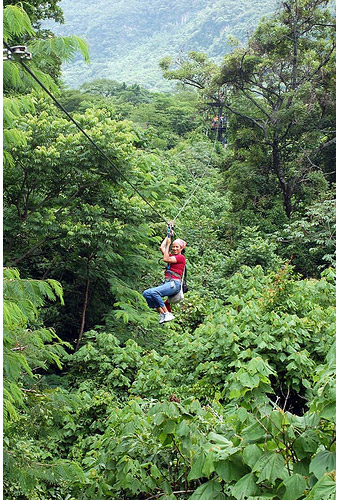 The Iguazu forest tour includes several adventure activities that will make you to live the true Iguazu falls Experience. This tour will take you to a unique place, located 7 kilometers from the city of Puerto Iguazu and 15kms away from the Iguazu Falls.  You will arrive to this place by light-truck vehicles, once there, amid the forest, you will perform a variety of eco-adventure activities, as the bird flies (canoping), rappelling in trees and on the falls and trekking through the jungle.
This is a half day excursion with 4 hours duration.